Help us improve your homes and communities in Barnsley
Published: 25/08/2023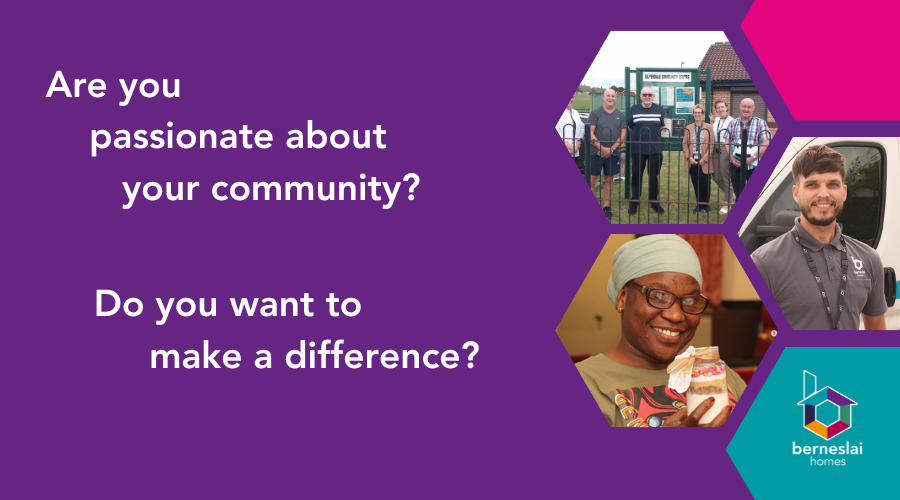 Are you a Berneslai Homes tenant or leaseholder and want to help us improve your homes and communities in Barnsley?
If this is you then we've an exciting opportunity for you to join our board as one of our tenant board members.

We're looking for you to:

• Understand the needs and aspirations of tenants
• Be active in your local community
• Help us achieve our ambitions for the future to provide thriving, vibrant and diverse communities for tenants
• Help us to listen to and hear tenants and make sure they're safe in their home

You'll help shape and influence the work that we do and the services that we provide for customers across the borough.

We'll support you by providing you with:

• A full package of support and training tailored to you
• A board mentor to guide you to become a capable and confident board member
• Support from our Executive Management and Governance team to help you settle into the role

We're committed to making sure that we're truly representative of the communities we serve. This ensures that we have board members with different backgrounds, perspectives and experiences, which brings diversity of thought to every level of the company.
Here's a few words from our Tenant Board members:
"My journey with Berneslai Homes has been transformative, enhancing my knowledge, skills, and positioning me for ongoing career development." Eric
"Since joining the board I've really developed my skills, knowledge and confidence. The experience is really great for your CV and whether you're working, studying or seeking employment, it will assist in your learning and development."  Adriana
Find out more?
If you're interested and want to find out more then follow this link to our introductory video. You can also download the Board member recruitment pack and role specification. 
We'll be holding a taster session for you to find out more so if you are interested in attending please email: governance@berneslaihomes.co.uk
If you wish to have an informal discussion about the role and our organisation, or if you have any other questions please email: governance@berneslaihomes.co.uk to arrange an informal chat with the Head of Governance and Strategy.
To learn more about our board, please visit Our Board section here, which includes the Board Code of Conduct.
How do I apply?
Please send:
1.Submit a statement of no more than 500 words about your suitability for the role; explaining why you are interested in this post, and detailing how you are a good candidate for this role, including examples. Submit your statement to Governance@BerneslaiHomes.co.uk.
2. Complete the declaration form here. Completion of the equalities section is not mandatory; this is requested for monitoring purposes in line with our commitment to equality and diversity. Interviews will be held at our head office in the town centre.
Please note that applications can only be considered if all documentation is complete.
Deadline extended: The closing date for applications is Sunday 12 November.