Share your feedback on the consultation for Consumer Standards and Code of Practice
Published: 28/07/2023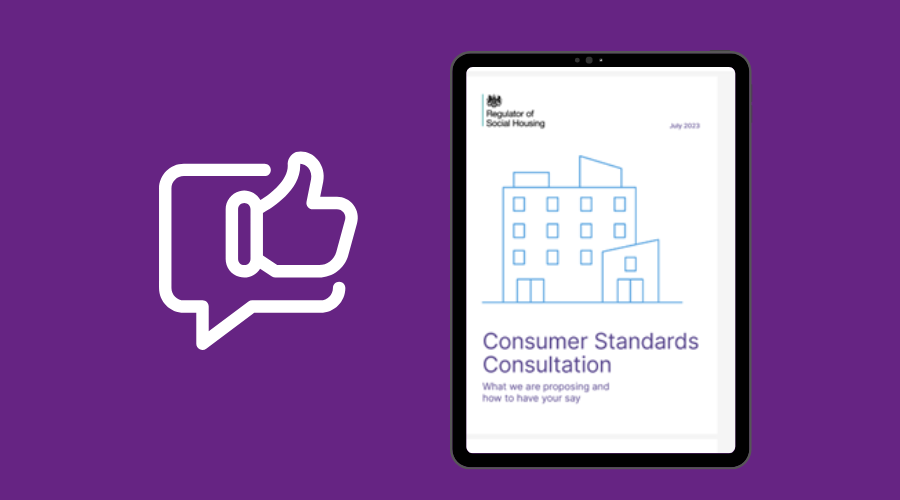 Hearing customers is important to us. We're pleased to share this valuable opportunity to have your say on the new consumer standards.
The Social Housing Regulation Act 2023 received Royal Assent to become law. It will put in place the reforms outlined in the Social Housing White Paper to:
improve the regulation of social housing
strengthen tenants' rights
make sure homes are better quality and safe
The reforms include the transformation of the consumer regulation role of the Regulator of Social Housing (RSH).
The regulator will now proactively monitor and drive landlords' compliance with enhanced consumer standards.
With this in mind, the RSH has launched a 12-week consultation. The regulator is seeking your input on a set of four draft consumer standards and a draft Code of Practice.
The consumer standards are likely to apply from April 2024. They set out the specific expectations and outcomes that all registered providers will be expected to achieve.
The four standards are:
The Safety and Quality Standard
The Transparency, Influence and Accountability Standard
The Neighbourhood and Community Standard
The Tenancy Standard
The regulator wants views from registered providers, tenants, and anyone with an interest in social housing.
Click here to read full details of the consultation and how to have your say on the government's website.
A summary of the consultation document is available, as well as an accessible 'Easy Read' summary.
Click here to respond to the consultation online.
If you can't use the website, you can also email or post your responses. Please only respond to the consultation once. For example, if you respond online, you don't need to email your responses as well.
Email: consultation@rsh.gov.uk writing 'Consumer standards consultation' in the subject line.
Post: Consumer Standards Consultation The Regulator of Social Housing Referrals and Regulatory Enquiries Team Level 2 7-8 Wellington Place Leeds LS1 4AP.
The consultation will remain open until Tuesday 17 October 2023.
If you have any questions about the consultation, please email the Referrals and Regulatory Enquiries team: enquiries@rsh.gov.uk