Supporting tenants with our hardship fund
Published: 29/09/2023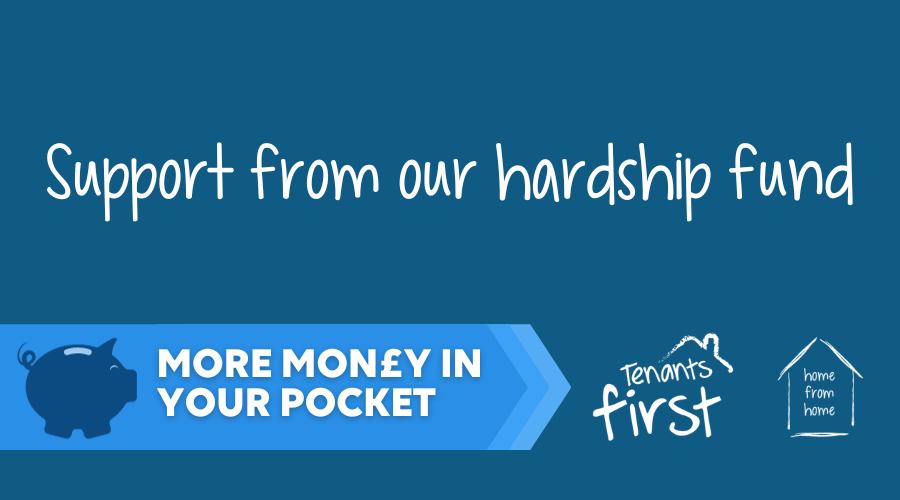 Many people struggle to make ends meet and unexpected costs especially at this time of year might mean you suddenly find yourself in difficult circumstances. We're here to support tenants and offer a helping hand when you need it.
Is the cost of living affecting you and your household?
Are you struggling to make ends meet?
Are you worried about heating your home?
Are you finding it difficult to afford food or other essential items?
If you've answered 'yes' to any of the questions above, help may be available from our hardship fund. We can help with your gas and electricity bills with pre-payment vouchers or help with food and toiletries with vouchers to use at local supermarkets.
You can complete an online application form yourself here or if you need some support with this, our Income Team or Tenants First Team can support you with applying for a hardship fund payment. We can help you to complete an application form and guide you through the criteria.

If you're worried about keeping up with rent payments at the moment, contact our Income Team:

Contact our Income Team for support applying for our hardship fund.

If you're worried about any other essential costs at the moment, contact our Tenants First Team:
Contact our Tenants First Team for support applying for our hardship fund.
If your application is refused, we'll consider alternative options to assist you during this time. Our friendly team are here to help and support you. You might be able to get benefits or grants that you haven't been claiming. If you're working but receiving a low income, support is also available.
We've pulled together more helpful information on our dedicated cost of living webpage which you can find here.
Amanda Garrard, Chief Executive of Berneslai Homes, said: "We know the cost of living is affecting many people in Barnsley. Our teams are working hard to help our tenants get the right support at the right time. If you're worried about paying your bills and rent or being able to afford essentials, please talk to us as soon as possible – we're here to help."